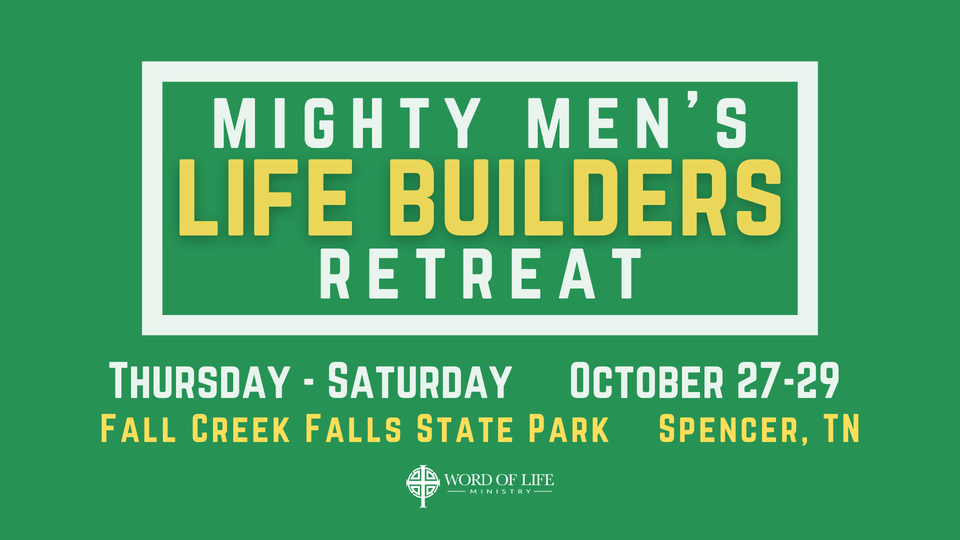 Mighty Men's Life Builders Retreat Weekend
Ages:
 13 & up

Location:

 Fall Creek Falls State Park - Spencer, TN


Dates:

 October 27-29


Days:

 Friday - Saturday

Retreat Host:

 Pastor Donnie Barber - Good News Worship CenterAbout Might Men's Life Builders Retreat:Details
We will have powerful worship services on Thursday and Friday nights and a fun day of fellowship and food on Saturday.
Fall Creek Falls offers multiple waterfalls including the tallest waterfall east of the Mississippi River, 56 miles of hiking trails, a beautiful 18 hole golf course, 24 miles of bike trails, kayaking, fishing, a Canopy challenge course, and much more.
We have reserved an 8-person capacity cabin in the state park.  Based on the number of sign ups, we will split the cost of the cabin evenly.
We have attached the link to the State Park Website below for your convenience. We invite you to join us and connect with other Mighty Men in the Kingdom of God.
https://tnstateparks.com/parks/fall-creek-falls
Contact Pam Ogle // pam@wolministry.org with any questions or for more information.
LOCATION:
2009 Village Camp Rd Spencer, TN 38585