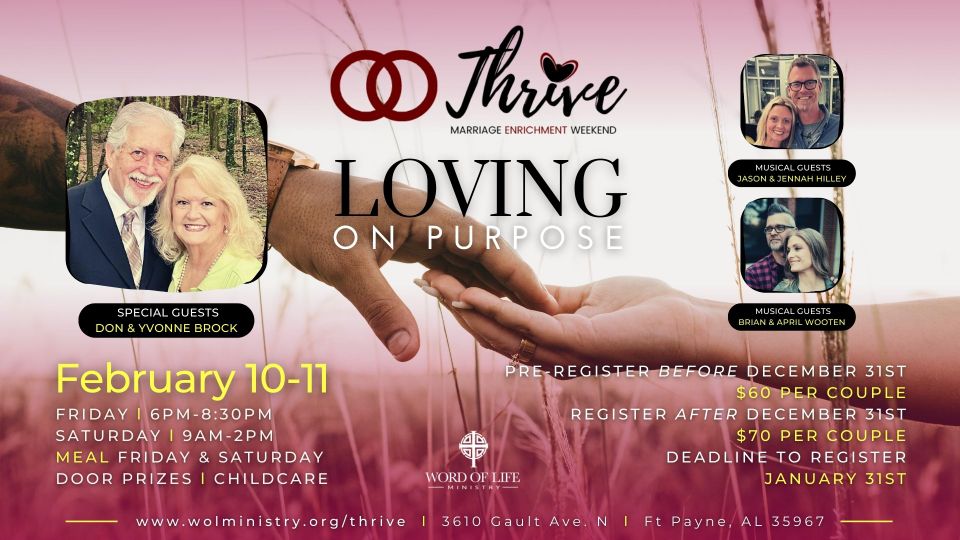 THRIVE Marriage Enrichment Weekend 2023
Who:
 Married & Engaged Couples

Location:

 Word of Life Ministry


Dates:

 February 10-11, 2023


Days/Times:

 Friday 6pm-8:30pm
                        Saturday 9am-2pm


Register:

CLICK HERE!


                        About THRIVE Marriage Enrichment Weekend 2023:
Thrive Marriage Enrichment Weekend is an annual event designed to enjoy time with your spouse, find fresh inspiration for your life together, and connect with a community of couples to walk alongside as you grow your marriage. Whether you are newly engaged or have been married for years, this weekend is designed to help you uncover the purpose, passion, and fulfillment God has planned for your marriage to THRIVE!
The 2023 weekend will be a video series hosted by Danny Silk, author of Keep Your Love On as well as this course, Loving on Purpose.  Loving on Purpose is a ministry that builds powerful people who choose love over fear and who strengthen and protect quality relational connections. In this video series you will discover the tools on how to become passionate about equipping people to create a powerful relational legacy for future generations in their marriages, homes, organizations, and communities.
CONFERENCE SPEAKERS
Dr. Don Brock // Synergy Counseling // Fort Payne, AL
CONFERENCE SPECIAL GUESTS
Jason & Jennah Hilley //  Mary Esther, FL
Brian & April Wooten //  Trenton, GA
CONFERENCE HOSTS
Pastor Kevin & Amy Gurley // Word of Life Ministry // Fort Payne, AL
Contact Brenda Williamson  // brenda@wolministry.org with any questions or for more information.
LOCATION:
3610 Gault Ave N, Fort Payne, AL 35967