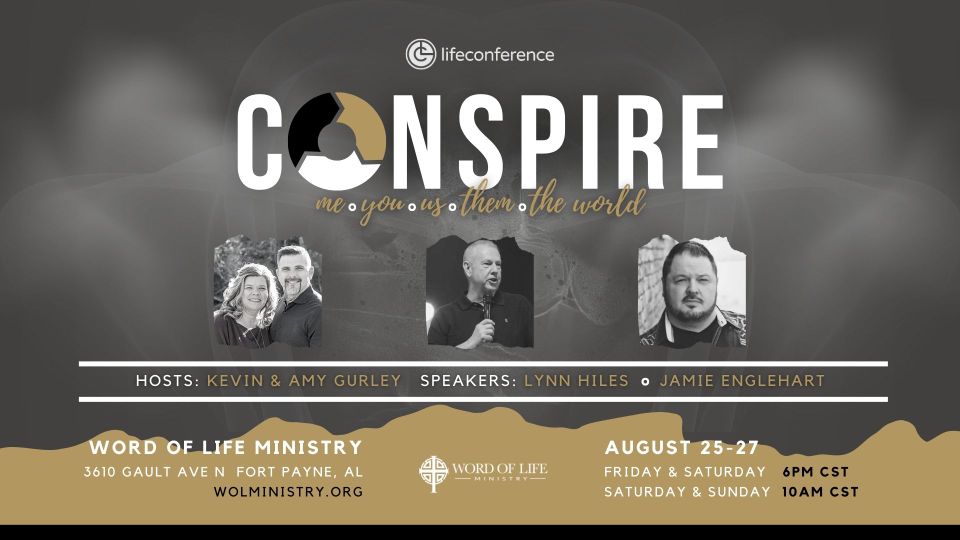 LIFE Conference - CONSPIRE
Who:
 Everyone

Location:

 Word of Life Ministry


Dates:

 August 25-27


Days/Times:

 Friday 6pm
                        Saturday 10am
                        Saturday 6pm
                        Sunday 10amAbout LIFE Conference 2023:
Word of Life Ministry
 is celebrating 27 years!
This weekend is a celebration and collaboration of  Father, Son, Holy Spirit, covenant relationships and the synergy & purpose of the universal body of Christ.
The heart of the weekend is centered around the idea that Jesus' most consistent social action was eating in new ways and with new people, encountering those who were oppressed or excluded from the cultural system. A great number of Jesus' healings and deliverance from the oppression of the demonic take place while he's entering or leaving a house for a meal. In the process he redefines power and the kingdom of God. Jesus shows us that spiritual power is primarily exercised outside the structure of temple and synagogue with its ever increasing consentric levels of exclusiveness and arrogant religious holiness.
As Christianity developed, the Church moved from Jesus' meal with open table fellowship to its continuance in the relatively safe ritual meal we call the communion meal. Unfortunately, that sacrament itself came to redefine social reality in a negative way, in terms of worthiness and unworthiness which was the opposite of Jesus' intention! Even if we deny that our intention is to define membership, it is clearly the dominant practical message people hear today.
However, Jesus came to invite whosoever will to come and sit at His table with Him.  You are invited to the table of the Lord.
CONFERENCE SPEAKERS
Dr. Lynn Hiles // Lynn Hiles Ministries // Berkley, WV
Bishop Jamie Englehart // Connect International Ministries // Lousiville, KY
Contact Kevin Gurley  // kevin@wolministry.org with any questions or for more information.
LOCATION:
3610 Gault Ave N, Fort Payne, AL 35967